Next we headed over to the Golden Horseshoe to watch the Hillbillies, the only problem was once we got there, we had no idea where to go or what to do. We asked several cast members where we go with our PS, no one could tell us. We even asked a few random people to see if by any chance they knew. Eventually someone was able to tell us just to take any seat down the front with the tablecloths.
While waiting for the show, from our great vantage point, we even managed to spot a Hidden Mickey!


This was a great show! I'm so glad we saw it, I did want to see it, but I always sort of thought that we'd see it only if we got time. I'm just disappointed now that I didn't buy their CD!

They were just such good entertainers; I loved the Elvis part, which was pre-teeth,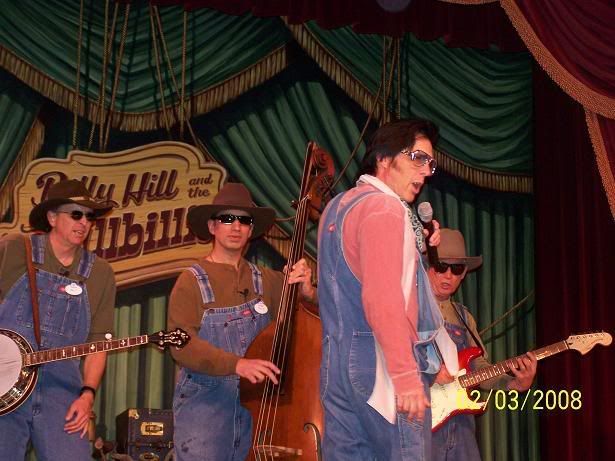 and I loved the Devil Went Down To Georgia part – which was post-teeth. I laughed so much at these teeth! I know, I know, simple things amuse simple people...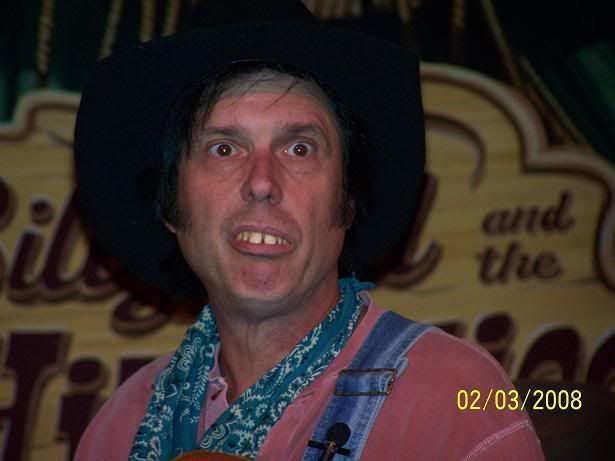 Next we headed back over to DCA for our PS at Wine Country Trattoria. We had to wait for a fair while for our table to come available, which started to annoy us because there were people who did walk ups that were seated before us, despite the fact that we'd already checked in and were waiting to be called…

We were eventually seated though, and the service was good. I got the Lasagne Rustica and it was yummy!



It was dark by the time we finished dinner. I love DCA by night! It's so photogenic. So I took lots of photos.



We wandered around the park a bit looking at everything. We tried to find "It's Tough To Be A Bug" but managed to walk right past it and then couldn't find it at all…

We then went through the sour dough tour. This was ok, a little interesting, but mainly boring…

We then sat down to watch the Electrical Parade. I loved these little things, they were so cool and I couldn't stop laughing at the sounds they made!




After the parade it was pretty cold and the fireworks had been cancelled due to wind, so we headed back to the hotel for the night. Once again, fell asleep watching The Disney Channel!