Due to how cheap the flights were at the time, the fact that half of Chris' family lives over there, and I LURVE Disneyland, we decided to go back again. In May 2009 we boarded another plane back over to the US, and this time we took my 15 year old brother with us.

I didn't write up a full blown trip report for this trip like I did the last one, but I did do a food report, because I know that the good folks on www.disboards.com love to see food pics. So this post is all about the food we ate at Disneyland.

If you're interested in finding out more information about anything Disney, I highly recommend the disboards.

So let's get started.

Day 1 – Lunch at Naples

We didn't have a reservation, but it was early for lunch, so we were seated right away. Service was quick and friendly, with drink top ups offered regularly, which is a big plus in my books.

The complimentary sour dough came out and was served with olive oil and herbs. It was really nice.




I ordered the Pollo Panini - Roasted chicken with caramelized onions, fontina, and mustard dressing. $13.95




It was nice, but not as good as I was hoping. It was huge though, so I only managed to eat half of it, plus I had trouble holding it. It's a slippery sucker!

Chris had the Spinaci Insalate - Baby spinach, pancetta, goat cheese and candied pecans tossed in a light balsamic dressing. $12.50




He said it was really good, but a bit vinegary. It was also apparently enough to fill him up!

Hayden, my brother had the Pizza Pancetta E Ananas - Roasted fresh pineapple, crispy pancetta, tomato sauce and mozzarella. $16.95/$26.95/$43.95




$16.95 one pictured. This was awesome!! We each stole a slice, plus went back and ordered it as a take away for dinner one night. Highly recommended!

All in all, we were pretty happy with our meals. We will most likely eat here again… If given the chance.


Day 2 – Lunch at Carnation Café

We had a reservation, but I got the times a little mixed up, so we were there about 20 minutes early. We spent the time looking around the shops, but a lot of people who "appeared" to be walk-ups were seated almost immediately. I didn't mind, but if we could have been seated earlier it would have been nice.

To begin with the service was great, then it was almost like our waiter went to lunch himself or something, because after our meals were brought to us we didn't see him again. No drink top ups, no checking if everything was alright or anything.

Oscar did swing by at one stage though to make sure we were happy.

I naturally got the Loaded Baked Potato Soup – Creamy, hearty potato-cheese soup, with chives, bacon, sour cream, Cheddar and Jack cheese. Bowl $5.49, Cup $3.29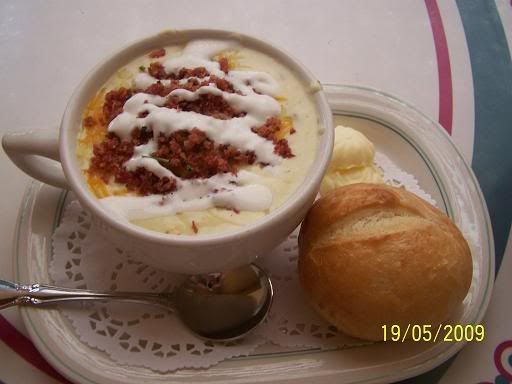 Bowl pictured. Oh my God so good! The chunks of potato in it are so yummy, and the flavour of it is something not to be missed!

Chris got The Chicken Pot Pie – it's not on the menu because I think it was a special or something.




Very tasty, and the pastry was just the right amount of crisp! The salad that it came with was also very nice, and the raspberry vinaigrette was just right. He got some weird looks from people at the neighbouring tables though, and one even had to ask "Why are you putting ketchup on your pie?" Don't American's put sauce on their savoury pies!?!?! It's the only way to eat them!

Hayden got the Café Steak Melt - Grilled beef slices, melted pepper-Jack cheese and caramelized onion on grilled sourdough. With potato salad, green salad or fresh fruit. $10.99




He said it was very peppery, but mustn't have been too bad, as he is still talking about how good it was!


Dinner at Steakhouse 55.

Sorry, no photos. I know! What was I thinking???

We were late to our reservation, but it was the last seating of the night, so we went straight in. Service here was really good, they were quick and friendly and checked up on us. They were also very knowledgeable and were able to answer any questions we had about the menu.

We each had a different steak, and each of us thought our steak was one of the best – if not in Chris' opinion THE Best steak we'd had.

I had the filet mignon. Chris had the Bone in Rib-eye, and Hayden had the New York Steak. For sides I had a type of macaroni and cheese that's not on the menu. It was really nice, but really rich. Chris had Steamed Asparagus Spears, Hollandaise $7, and Hayden had the Classic Baked Potato $7. Neither of them really ate their sides, and only got them because they thought they were part of the meal, however you are charged separately for your sides a it's A la Carte. We probably wouldn't worry about sides next time, but would happily eat here again. Even though it is pretty expensive.


Day 3 – Dinner at ESPN Zone.

Once again no photos! I really need to work on this.

Service here was really good.

I had the Baby Back Ribs - A full slab of slowly roasted ribs basted with barbecue sauce, served with french fries. $23.99
They were really yummy and really filling. Usually I find there's not much meat to be had on ribs, but these ones had quite a bit. I couldn't eat them all.

Chris had the Shrimp Scampi and Penne - Shrimp, tomato, garlic, and wine sauce with parmesan cheese. $16.99
He said it was really good and hit the spot, it was just what he was in the mood for.

Hayden had the Angus New York Strip - Charbroiled, served with a baked potato or mashed potatoes topped with bacon, cheddar cheese, and chives. Choice of garlic butter or blue cheese butter. $25.99
My brother is only 15, so his comments tend not to vary too much. This came under the heading of "Good" which I translate as just right. I don't think he had any meals that he didn't like, which is saying a bit, because he is a very picky eater.

I really liked it here, and I think we'll try and go here again… If given the chance.


Day 4 – Dinner at Blue Bayou.

We've eaten here before, and mainly come for the atmosphere. I don't think there's enough on the menu.

Service was pretty good, but nothing great. We had a late sitting, and felt a little rushed.

I had the Isla-Cruces Crab Cakes - Succulent pan-seared Crab Cakes, topped with her-citrus beurre blanc and mango slaw. With blue Bayou potatoes and seasonal vegetables. $30.99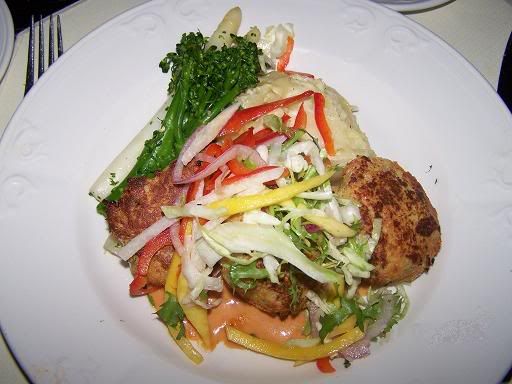 It was nice, but I don't think it was really what I was in the mood for. Eating a little of everything off the plate each time I took a bite was the way to go though, the flavours all just went together really well. I had it with the Gumbo, which I found to be a lot spicier this time around.
Chris had the Bayou Surf & Turf - A succulent, sweet petite lobster tail from the Pacific Northwest, paired with an expertly broiled filet mignon, sauce bearnaise. With Blue Bayou potatoes and seasonal vegetables. $39.99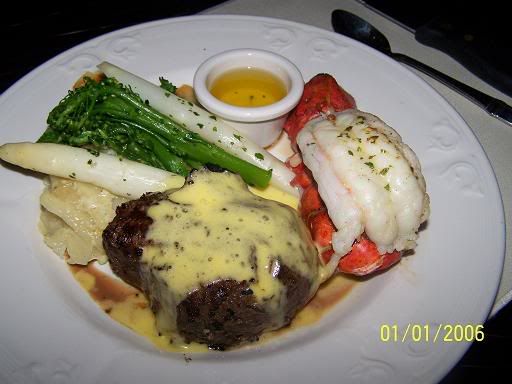 It was really good. The Filet Mignon didn't quite compare to the steak from Steakhouse 55, but must have been pretty close. The lobster was lovely! I made sure to snavel some of it too.

Hayden had the Five-Pepper Roast New York - Seasoned with the Chef's signature pepper rub blend, then slow roasted over rock salt. With Blue Bayou potatoes and seasonal vegetables. $33.99

I didn't get any photos of it, but he said it was pretty good. Not sure what this translates as, but I think he enjoyed it. Hayden also had the gumbo, but didn't like it.

One day I'll be smart enough to just get a starter and a dessert. One day…

Now just because we like them, here are some photos from Pooh Corner.




I had one of the Mickey Apples. I wish I hadn't, it was so sickening. Next time I'll be smart and get a chocolate covered strawberry like Hayden did…