Would you look at that? It has been over two years since my last post, and boy has a lot happened!

The biggest event would be the birth of our first child in May 2103. A little girl named Audrey, who came 6 weeks earlier than expected. She may be a handful, but hasn't slowed down our traveling much at all.

I am however here for a reason. I have decided to exhume this blog to give a shout out to a holiday park that we recently spent a night at.

For 11 days in October our home was a Mercedes Sprinter Campervan, as we took a driving holiday around the South Island of New Zealand. In that time we stayed in 9 (or was it 10?) different holiday parks, which I hope to eventually detail. However one of the parks I feel warrants a special mention.

Originally our plan was to spend a night in Greymouth, before heading on to Christchurch for our last night in the South Island, however after driving into, and around Greymouth, and spending a couple of leisurely hours in a park, we decided that nothing really appealed to us in Greymouth, so we decided to look further afield.

After a quick google search we came across Jackson's Retreat Holiday Park. It had great reviews, and even a few activities to do. Most of the parks we had stayed at offered simply somewhere to plug into, wash yourself, your clothes and your dishes, whereas Jackson's Retreat also offered hiking, waterfalls and glow worms!

There was just one problem, despite the fact that the campsite had just this year won several awards, google had it listed as permanently closed... Nothing deterred, I simply gave Jackson's Retreat a call, and was informed that they had spaces available for the night. So we jumped back in our camper and headed on.

When we arrived at Jackson's Retreat we were surprised that the site looked almost empty... Wait a minute... It was empty! Literally we were the only people there. None the less we stopped at reception and met owner Bevan and were told basically to pick our site, and he recommended site 11.


We pulled into site 11 and decided to head out to find the waterfall.
Ughh, this place is amazing!
We had been on plenty of bushwalks during our time in New Zealand, but they had all been on well worn man made paths. This path was, well... It was marked out by little poles here and there, but if they hadn't been there we wouldn't have been able to follow it. Has anyone ever played Simon The Sorcerer? It was like that, but greener and lusher, and definitely more overgrown!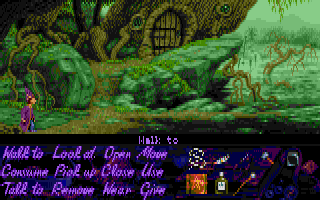 Image from http://www.ruffnecks.co.uk/reviews/commercial/simon/
After a bit of trekking we found the waterfall. It would have to be one of the nicest waterfalls we saw on our trip (and we saw a lot, but maybe none this close). We couldn't help discussing how nice it would be to sit under it on a 40˚c day.
During slow season, they close off one of the bathrooms, and make the other unisex. I don't think I'd be OK with this really, but because we were the only people there we didn't mind. It was handy being able to have the whole family in the one bathroom, and to be able to pass soap and shampoo over the little dividing walls.
The showers here are awesome! Great pressure and coverage, plus they're inside their own little rooms, with additional glass screens. Which meant that they weren't cold and draughty, and your clothes don't get all wet while you shower.
The grounds are immaculate! Everything is well looked after and despite the fact that it was very quiet there were no cobwebs or anything.
There are several "friendly" weka birds that roam the grounds and attempt to steal your food.
Now I can only assume the park is this peaceful when you have neighbours, but I don't think I had a better night sleep the whole trip. It was quiet and dark and just amazing!
After our great night's sleep we packed up our belongings and stopped in for a quick chat to Bevan before hitting the road. He's not sure how to get onto Google to let them know that they're still open for business, but he didn't seem too upset by the fact.
Jackson's Retreat is located about 40 minutes from Greymouth and 2 hours from Christchurch. It is in a perfect location for a night's stop between Christchurch and Fox or Frans Joseph Glaciers. If it hadn't been raining we would have spent an extra night.
If you're in the area looking for somewhere to stay I can not recommend it any higher!